Welcome to Commercial Food Equipment
Proudly serving the Catering Industry since 1970
Commercial Food Equipment is one of Australia's longest running catering equipment suppliers. Located in Rocklea, Brisbane, Queensland, Australia, we have been providing a quality service to local and national customers for many years.  Our experienced staff can assist you with all enquiries on everything "from a teaspoon to a coldroom". 

Please feel free to browse our website.  We have provided links to many of our suppliers' pages and are constantly adding more items to the site.  If you are not able to find what you are looking for, please call us and we are happy to track it down for you.  We are contactable Monday to Thursday, 8am to 5pm, Friday 8am to 4pm on 07 3277 1100 or fax: 07 3277 5730 or email:sales@cfeqld.com.au.
You can also see us on Facebook at http://www.facebook.com/CommercialFoodEquipment/ where we will be sharing new products, events and information relevant to the Catering Industry.
The new Skope Reflex fridges and freezers have officially launched at Fine Food Australia. Featuring improved energy efficiency, generous ambient operating capabilities, massive storage and legendary Skope reliability, the Reflex series is the upgrade you are looking for. Contact us for pricing and specifications.
http://commercialfoodequipment.com.au/new-equip…/skope.html…
Come in and see us today.  On our front counter today from 9.30am we have Chocolate Cupcakes with Chocolate Ganache and Caramel Fudge.
Click the following link to see the current specials for this month: Specials!!!!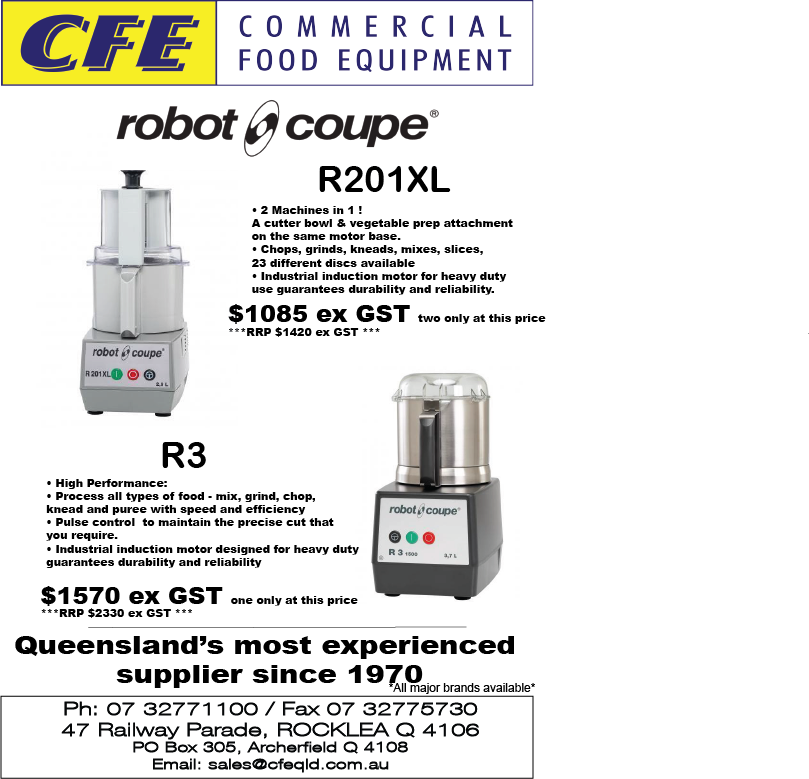 If you would like to receive newsletters and information about our specials, please sign up to our mailing list by clicking here:Mailing List
Note: most items are quoted ex. manufacturers warehouse or ex. our showroom. We try to ensure the best value shipping price, as well as using reputable carriers. Product cost, shipping price and availability will be confirmed prior to acceptance of orders.
If you require warranty service on your equipment, click HERE